GERSHWYN EUSTACHE JNR has found success on both the stage and screen, with an impressive range of theatrical work, with roles in the Royal Court's 'Anatomy of a Suicide' as well as 'A Profoundly Affectionate, Passionate Devotion To Someone'. He also played at the 'National Theatre in Home and Nut', as well being a part of the UK touring cast of 'Romeo and Juliet'. Gershwyn can currently be seen in the epic nine-part series 'Britannia', alongside David Morrissey and Zoë Wanamaker. Set in AD 43, the series follows the Roman conquest of Britain. He was also recently seen as a series regular on the acclaimed psychological thriller series 'Fortitude', alongside Richard Dormer. I talk to Gershwyn about learning his craft on the stage, as well as his role in 'Britannia' and the costume design that was involved to bring it to life.
AC: 'Britannia' has a great cast, was there anyone that you particularly enjoyed sharing scenes with?
I'd seen so much of the work that a lot of the cast had done before, so I definitely found myself telling my inner 'fan-boy' to chill out a lot of the time, I didn't want anyone feeling they were having their ear chewed-off. Shooting the battle scene through to Vitus' torture were a special few days. Rhys and I had been practicing the fights for weeks, so finally getting on set and seeing everyone ready to go for it, an incredible feeling.
How much did you know about the Romans before the show? Did you have to do a lot of research?
In school we would touch on events in history that the Romans were involved in, for example stories in the bible. Then being taught about Shakespeare's plays, I had the opportunity to get an idea of how certain historical figures overlapped each other. But nothing so in depth as the research I looked through for the show. It was good to find out where and how those historical figures impacted the Roman Empire. I was able to look more closely at how a legion is formed, everything was carefully structured. Centuries within the legion and how they are led, cavalry, heavy weaponry(ballista), scribes, tribunes, etc. It let me understand just why they were such a force and how they brought such vast amounts of land under their rule.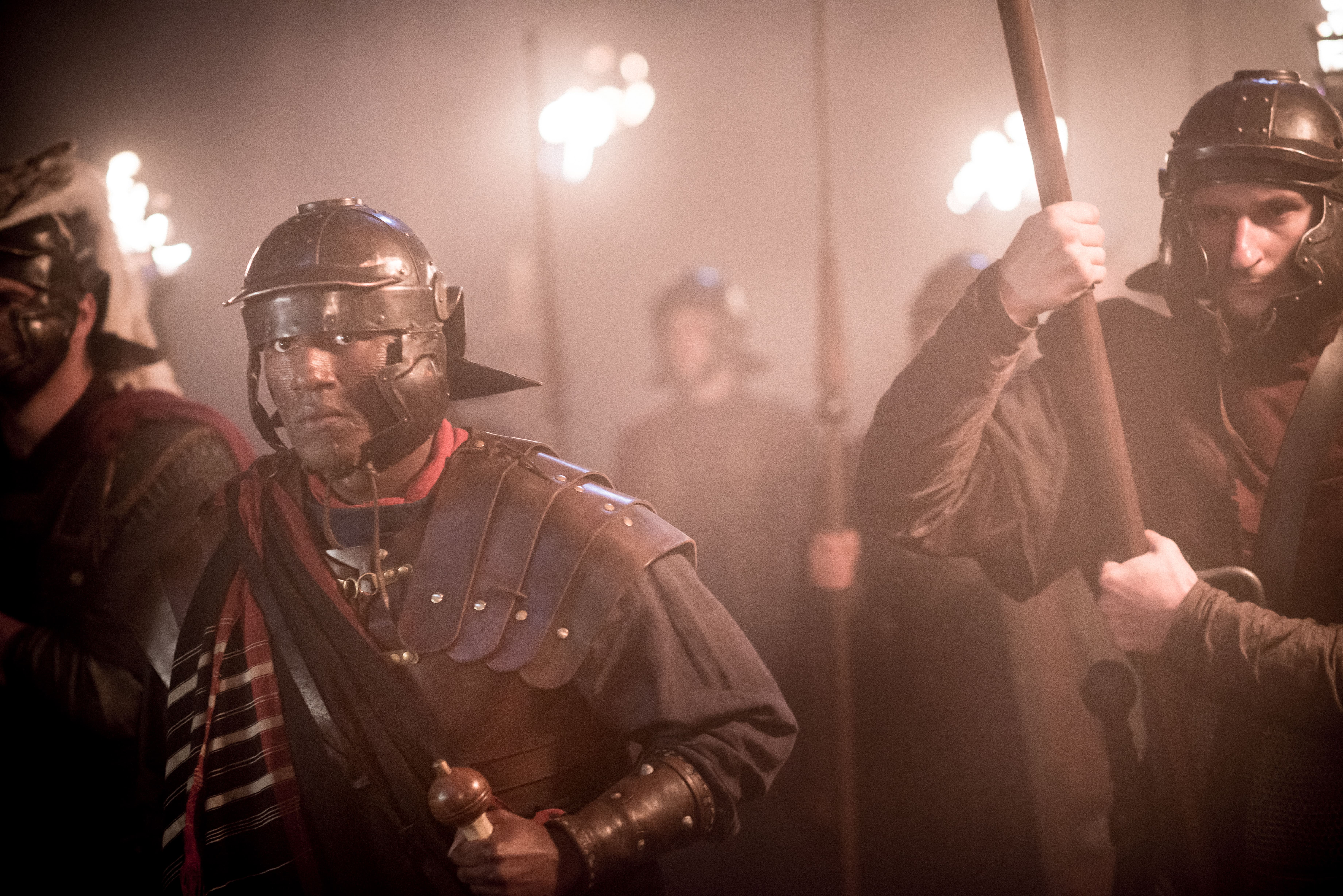 Gershwyn starring in 'Britannia' on Sky Atlantic
Tell us about your character Vitus...
Vitus always felt like he found belonging within the army, amongst brothers in arms. He has a great inner strength, and that is something we see tested in the series. I think its this strength and resolve that sees him held to greater esteem by his seniors, whether he is ready for that is another question.
How did the role come about?
I auditioned for the role a few months before the cast were gathered for the first read through in Prague. Found out I had the part and had some time to get prepared.
The costume design on this show is amazing, were you spending a lot of time with the costume and makeup department?
I was lucky to see some of the costume designs early, some from when they were only drawings up on the walls surrounded by rolls of materials and fabrics. It really made me appreciate the work and passion of the costume department. For example the wrap that I wear over my armour was made from material from the northern regions of Africa that Vitus was said to have come from. Great attention to detail. Make up wise the show is brilliant. I had met Davina while working on Legends so it was nice to see a familiar face. She spoke to me about the idea of scarification (from tribes in the northern regions of Africa) being used heavily throughout the show and how/why Vitus would take it on. Putting on the makeup which consists of 7 prosthetic pieces started at 1 hour and 20 minutes, then reduced down to 45 minutes. It was an awesome feeling seeing the character coming to life at the start of a filming day.
You've done a lot of theatre work, what was the transition like between theatre and TV Shows?
I think not having that extended time in rehearsals took some time to get used to. Screen or stage everyone does their work before they show up on the first day, but with stage you then get to sit and discuss all findings and possibilities then work through each on your feet. With screen I had to get used to making more definite decisions about a character, then the director will talk you through what works and what needs to change. Working a bit more on screen it's been incredible to see all the various technical departments work towards creating the magic you see on screen. It's incredible to see how a slight change of lighting or a shift of an angle completely transforms the mood or tone of a shot.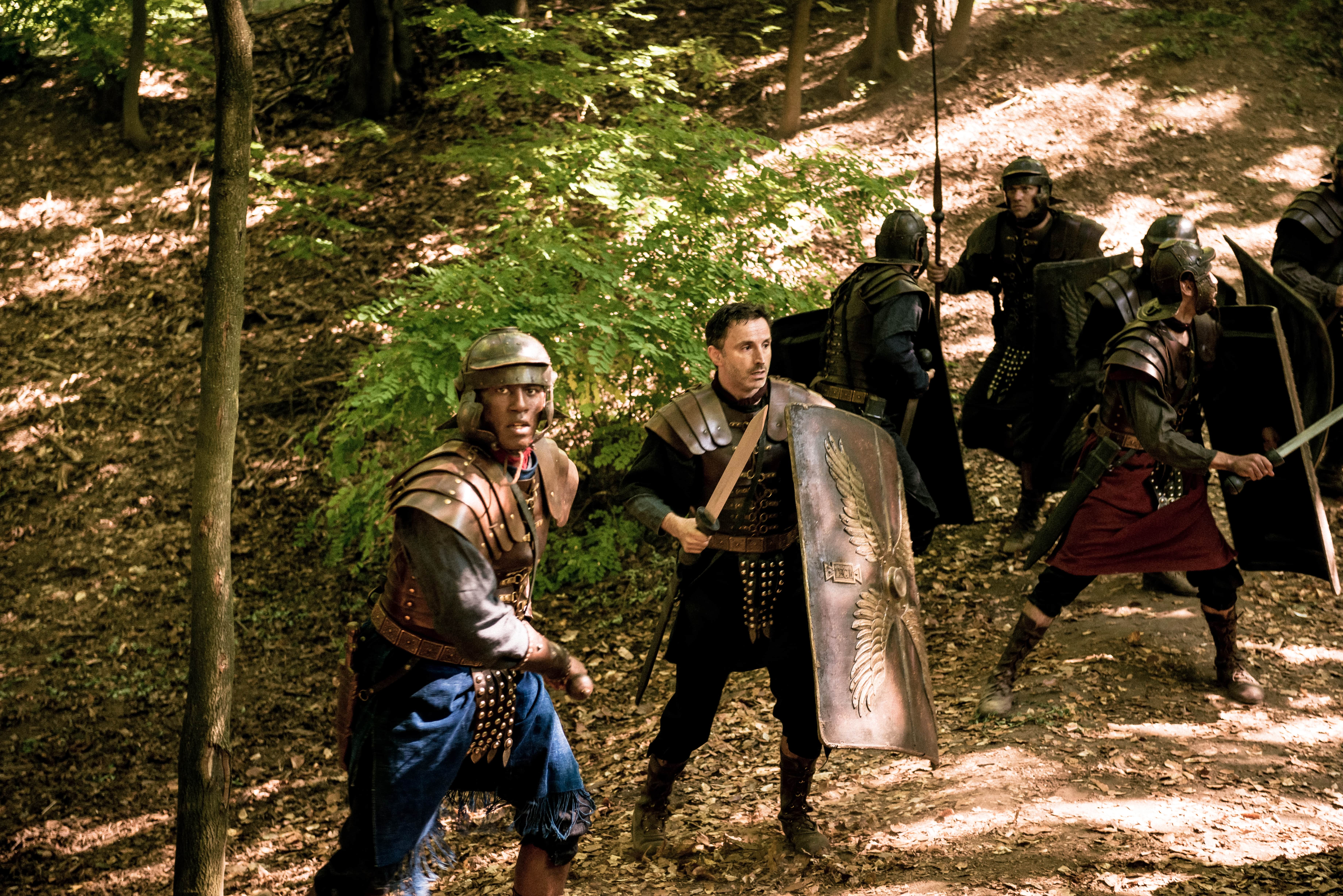 Is the stage the best place to learn the craft of acting?
I can't speak for anyone else, but from my experience yes. As I said that time in a rehearsal room is so worthwhile. Not just the fact of getting to sit and discuss the world the play is set in, but also how to navigate around bringing your character to life. How they walk and talk, etc. You learn it here and take it on with you. For me it was getting used to feeling exposed. On stage everything can be seen by the audience, so I had to learn to control any nervous ticks. That helps when you have a crew behind a camera looking in closely at what you're getting up to on screen.
You had another recurring role in on TV with 'Fortitude' last year, what are some of the differences between working on stage and on a TV set?
Biggest difference is obviously on stage once that show starts it's going to keep on going. There are no retakes. On a TV set, as I said earlier, there are more departments working quite quickly around you to create the perfect shot. You have to learn to keep your head in the right place while you're waiting to start a scene.
Quick Questions with Gershwyn Eustache Jnr
Last film you watched?
Black Panther
Best show to binge-watch?
Britannia.
What's the strangest food combo you've ever had?
Peanut butter, serrano or prosciutto ham, Avacado, all on wholemeal toast. Sounds strange but trust me it's a winner.
What's on your music playlist at the moment?
Hamilton soundtrack, Kendrick Lamar, Fink, various Max Ritcher tunes, Soca or house music at the gym
Favourite band?
Change that to "performing act"...Outkast, absolutely no contest.
Favourite solo artist?
Busta, Marvin Gaye, Lauren Hill, Gregory Porter...I'm greedy
Every has a cool app idea, what's yours?
One that gives you super powers for 48hrs.
What's that one food that you haven't yet tried?
All the food from New Orleans. All of it. Especially something called Beignets. I remember watching a TV programme and just wanting to jump into the screen.
Advice to your younger self?
Work harder at learning French and Spanish.
Is there one thing in particular that you're really excited about for the future?
Hopefully travelling and seeing more of the world.
A sport you wish you could play?
Basketball
What was the last book you read?
James Baldwin, The final interview and other conversations
Would you rather be at a mountain hideaway or a beach house?
Right now it's cold in London. So definitely a beach house. Sun, heat and clear blue waters.
What is the farthest you have been from home?
Sossusvlei, Namibia
Do you have an aim or a target for the year ahead?
A short film...maybe two. Alot of people I admire within the industry have put in so much work behind the camera and I feel its important to gain that experience. Actually open and read through a load of books I've bought recently and not started as of yet.
All episodes of Britannia are available exclusively on Sky Atlantic and TV streaming service NOW TV. Pinocchio is on at the National Theatre until the 10th April.
© 2018 Crookes Magazine / Adam Crookes