With a Burberry shirt and scooter to match, JORDAN CARDY poses with a dog by his vans alongside his band mates - Liam Haygarth (bass), Harry Todd (guitar) and Noah Booth (drums) - looking equally as menacing in a photoshoot last year for the cover of their debut album 'SCUM'. The long-awaited record went on to achieve commercial success, featuring an amalgamation of several styles - years in the making. Following this, they wrapped up the year supporting Liam Gallagher on his UK solo tour, with Liam's kids - Lennon and Gene - being fans of RAT BOY.
Fast-forward to January 2018 and Cardy isn't hesitating over releasing new material, and why should he be with the cult following that he has built clearly being eager for more. RAT BOY taps into the millennial fears, from fake IDs to 'living off mum' - making his music not just accessible, but relatable to the masses. With an EP (CIVIL DISORDER) just released (26/01) and a UK-stretching tour to follow in just a few days, we caught up with Jordan Cardy to talk about the ever-expanding world of RAT BOY.
Where did the wrap on the scooter and car come from?

JORDAN CARDY: It's actually not a wrap, my Dad painted it on there with masking tape. It was proper complicated, I don't know how he did it. I think it took him three days. There were three colours, so he'd do one layer, wait for it to dry and then the next day mask up another one.
What other cars do you have?

I have a Ford Grenada Mark II with the roof cut off that we used in the Get Over It video. And we've got a speedboat with a Reliant Robin engine in it that my Dad also built for a music video.
You released your debut album (SCUM) last year, are there any songs on there that you think have been slightly overlooked?

I'm happy with how they all went. I like 'Knock Knock', that's my favourite track on the album. It's the one I'm most into style-wise, and I'm proud of the production. It's got a bit of everything: it's got the production, the punky energy and the beats.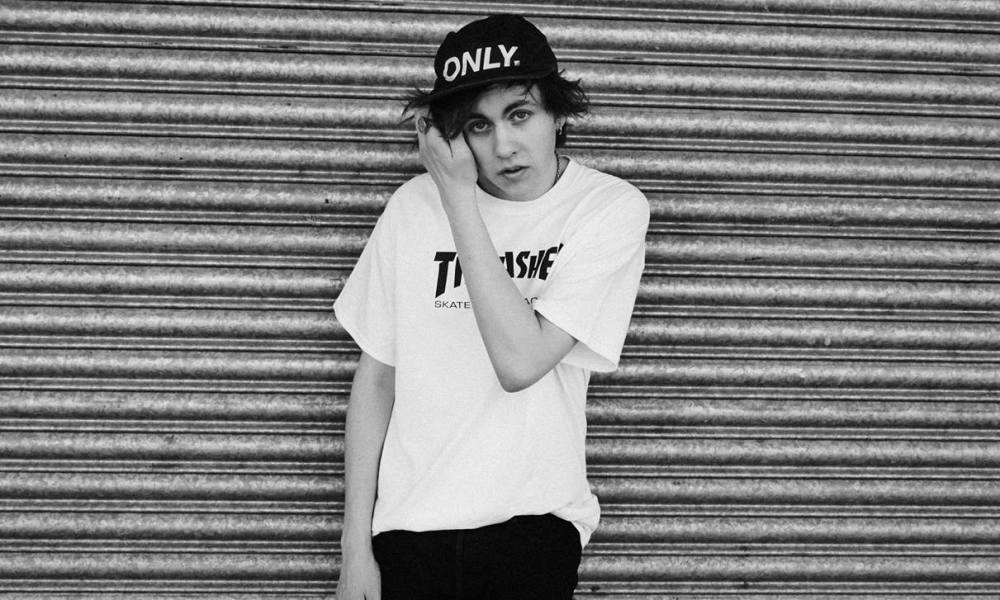 What's the quickest that you've ever finished making song? What was the longest?

'Everyday' I wrote in like a night, I think. That was the quickest one on the album to make, but now I'm writing stuff a lot quicker. I feel like if I spend all night doing it, then I finish it. And if I leave it halfway through it takes like a month to get back into the zone. 'Get Over It' took like six months.
Is it just original music for now, or are you looking to do any covers in the near future?

I want to do a little EP of covers soon, actually. I thought it would be cool to do some old punk songs. We did a cover of Babylon's Burning a while ago, a Bad Brains song, maybe Six Pack by Black Flag too. Just a few bits like that but with different production to them. I'm really getting into that stuff at the moment. I really like the energy of it.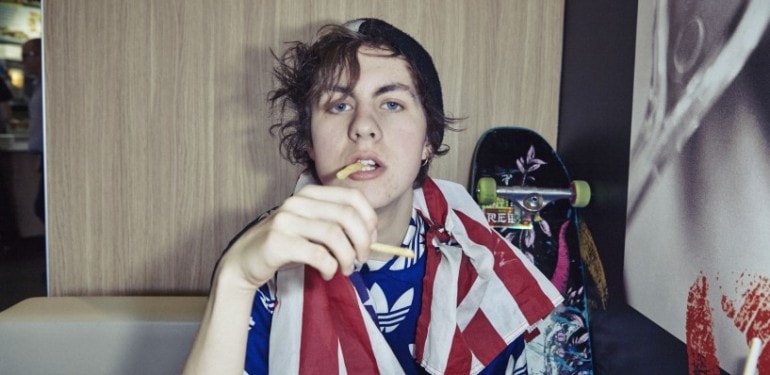 How much input do you have on the designs of The Holy Scum merch?

I do all the drawings and designs. Sometimes people help with putting it in different places - like sticking a drawing I've done on a hat or something - but it's all me in terms of the drawings.
Rat Boy's 'Knock Knock Knock', taken from 2015's mixtape 'Neighbourhood Watch', was sampled on Kendrick Lamar's 'LUST', from Lamar's critically acclaimed album 'DAMN' (released in April 2017).
Have you ever spoken to Kendrick Lamar?

No, sadly not, but I'd like to. That would be cool.
What would you say to him?

I'd say, "Let's make some more stuff together." I really like his lyrics, he's an amazing storyteller. That's something I really like in music. You can listen to his stories and really get drawn into it, like that 'Good Kid, M.A.A.D. City' album. The whole thing's a story with interludes.
How are you listening to music - streaming, vinyl?

I listen to a lot of music on my phone because I'm always travelling. That way I can listen to anything by streaming. I do like vinyl though, when you open one up and it's got the art, but when you're listening to music everyday it's easier on my phone.

But I've got a few weird vinyls that I like. I used to go to a lot of boot sales to pick them up. I've got a weird US pressing of 'Never Mind The Bollocks', which is a pink and green version. And I found an old record by The Damned - I think it's their first one - that's a first pressing. It's all white and I got it for like a quid. I normally buy a lot of random records, like ones that have sci-fi front covers that I listen to for samples when I'm making beats.
After college Cardy was hired and subsequently fired from Wetherspoons, which provided inspiration for his first release on SoundCloud, The Mixtape.
Do you go into Wetherspoons much anymore?

No, I don't. They've got that app now where you can order stuff from your phone. I never have a debit card, so I'm thinking of going there so I can order stuff on my phone. I think it would be easier because I never have a card and I never have any cash on me.
Is there a stand-out favourite gig that you've done recently?

I liked the Reading Festival and our last London gig at the Roundhouse. There was a lot of people at both of them with a lot of energy. My favourite thing was that everyone was jumping and you don't need to be like, "Come on! Come on!" They were just doing it already, so I could focus on the songs. You're not trying to hype everyone up, so you can just go mad on stage.
"The next video I want to do a house party with a Mad Max theme"
It's well known that you have big role in making your own videos, what ideas have you had for past videos that never happened?

I come up with loads of random ideas, and people will be like, "That's weird" or "You can't do that." The next video I want to do a house party with a Mad Max theme. There was a house party a few years ago called the Project X of Essex, so I wanted to reference that. It was a party that some girl threw. It went public on Facebook, a thousand kids turned up and they ruined the whole house. I think a floor caved in because there so many people in there. I think it caused something like £30,000 worth of damage.
Could those Ghostbuster outfits from the Halloween gig make a return?

That Halloween gig was fun, and the Ghostbusters outfits looked so sick. I think I've still got mine somewhere, but it had drinks thrown all over it.
What's the strangest fan request you've ever got?

People often ask me to draw them guitars. Someone's Dad asked me to paint a guitar for their daughter's Christmas present. They sent it over, so I spent a whole day painting it and sent it back to them. That was pretty funny. Did I do it for free? Yeah, of course!
You call yourself 'internationally unknown' on Twitter, do you see international recognition as your next aim?

I don't know. I've got a song that I wrote recently called Internationally Unknown. I'm excited to release it.
What can fans expect from the tour?

New songs, new clothing that I've made and a good vibe. I think it's going to be our best tour with things like the new stage design, which we're actually working on right now along with the backdrop. Brixton's my biggest London show so I'm excited.
Will the scooter be coming with you guys?

There's no room for the scooter. It doesn't run and just takes up space.
---
CIVIL DISORDER / RAT BOY




CIVIL DISORDER / RAT BOY

CIVIL DISORDER / RAT BOY




CIVIL DISORDER / RAT BOY




CIVIL DISORDER / RAT BOY

CIVIL DISORDER / RAT BOY




CIVIL DISORDER / RAT BOY




CIVIL DISORDER / RAT BOY

CIVIL DISORDER / RAT BOY




CIVIL DISORDER / RAT BOY
---
'CIVIL DISORDER - featuring 7 brand new tracks - comes just a few months after the release of RAT BOY's Debut Album 'SCUM'.'
10 Quick Questions with RAT BOY
Last movie you watched?
Jurassic Park, the original one. It was good. I saw bits of it when I was a kid but I'd never watched it properly. It was sick. I liked the animation.
Favourite track on the new EP?
I like 'Knock Knock Pt II'. Me and Lord Apex did a gig together at Heaven in January 2016. We've been saying we were going to do something together for ages, so it's cool to finally do it.
Best show to binge-watch?
I really love The Simpsons, I watch it all the time. There are episodes that stick in my head from when I was a kid. Remember the one where Lisa is babysitting Bart, but he's being an idiot and falls down the stairs? It's so fucked up it's like a horror movie. I don't know if it's my favourite, but it's the one that sticks in my head.
Who's on your personal playlist at the moment?
I've been listening to a lot of Rancid. Me and Tim [Armstrong, Rancid frontman] worked together and I've really been getting into that type of music. I've also been listening to Kasabian a lot, I'm really into their production. And a also bit of Wu-Tang and The Smiths. I downloaded all of their songs from Apple Music and listened to them all on a plane. I had Morrissey in my head for a couple of days after.
Everyone has like a cool app idea, what's yours?
I have a sick one but I think it might've already been done. It's a social media thing called Facebook. But seriously, I want to make a skating app, but I don't want to say much about it because it's a sick idea and someone will take it.
Advice to your younger self?
Hmmm, I really don't know. Don't listen to me?
Biggest pet peeve?
Bus drivers who drive off when old people haven't sat down yet. They roar off and then the person nearly falls over. That always bugs me.
Do you have a hidden talent?
No. I don't think so...I can scream pretty high-pitched.
Favourite lyric you've wrote?
"The c*nt stunk of skunk" from 'Turn Round M8'. It's the first song on the album and it's just gross.
Looking back, are there any songs that you'd rewrite?
I'd like to change a bit of the production on 'Revolution'. There are two drum kits playing on the chorus and it just sounds a bit cluttered. I just went a little bit too far with it.
RAT BOY's Latest EP 'CIVIL DISORDER' is available to stream now worldwide.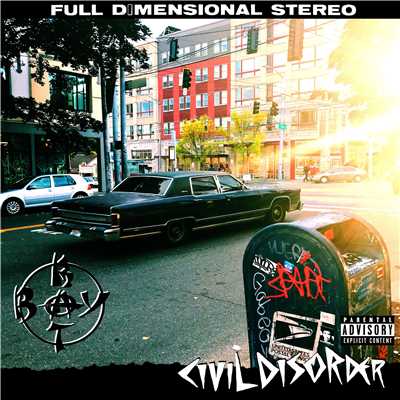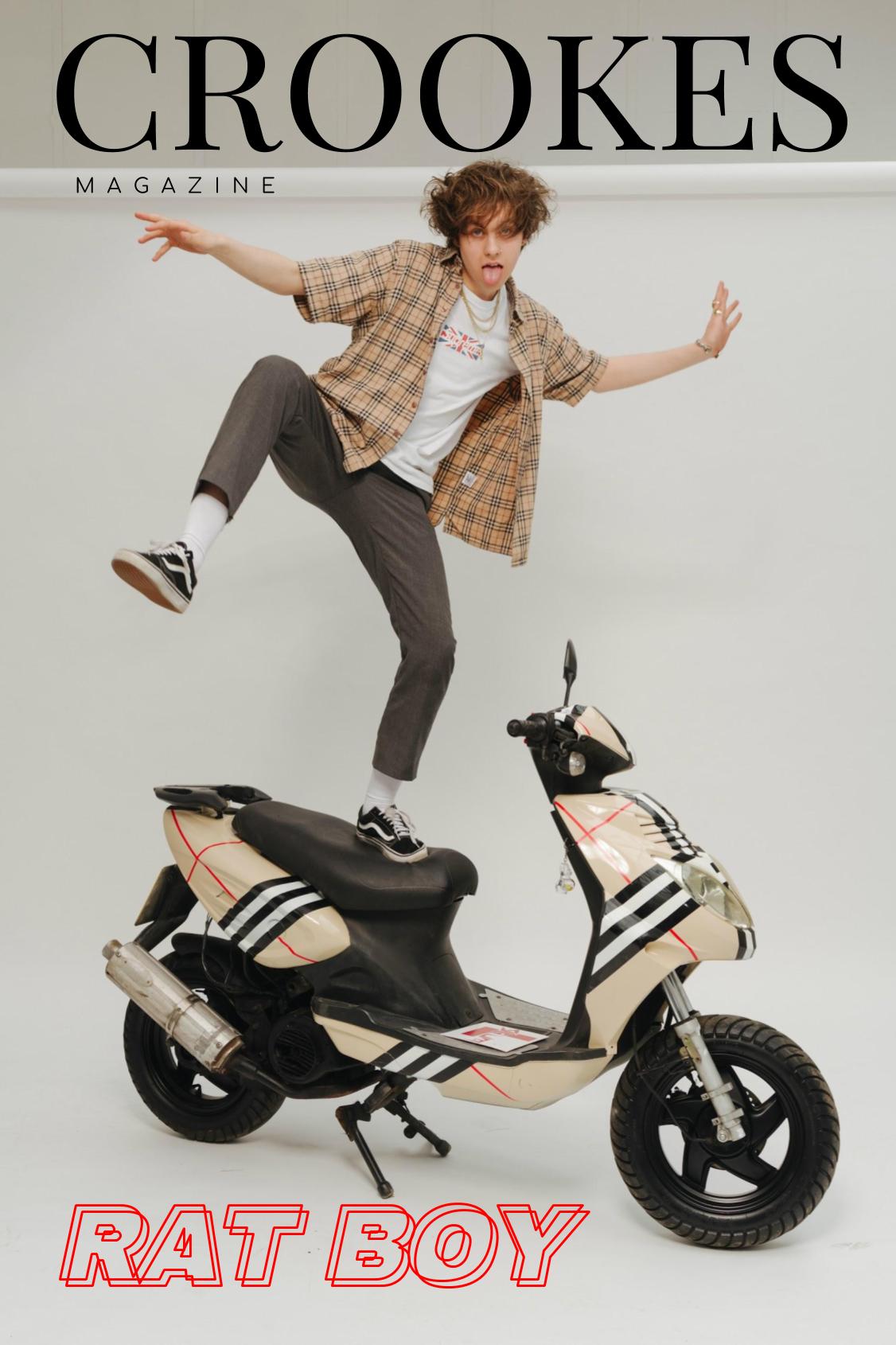 T-Shirt - Supreme / Shoes - Vans
Trousers - Dickies / Shirt - Burberry
TOUR
January
31 Glasgow, Barrowland
February
02 Belfast, Limelight
03 Dublin, Academy
05 Cardiff, Tramshed
06 Leicester, O2 Academy Leicester
08 Newcastle, O2 Academy Newcastle
09 Manchester, Academy
10 London, O2 Academy Brixton
© 2018 Crookes Magazine / Adam Crookes